Email Addresses for Business or Personal use!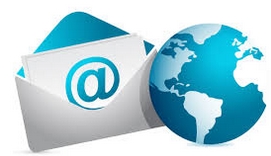 Get unique email addresses for personal or business use
Custom email addresses based on your own domains. For a limited time, we are offering a free home page on your domain with your business details, photos and online contact form. 

Private, Secure, Professional and Affordable!


Domain Name
A  .com or .com.au domain name is included with this package. Your new email addresses will be created on this domain. Select your domain name carefully, it is your virtual property and unique identity on the internet. Let us know your domain name ideas & keywords, and we will check domain name availability for you.

Unlimited Mailboxes
Have as many addresses on your domain as you need. Some common ones are email@, info@, mail@, admin@, accounts@, sales@, yourname@, support@, marketing@, etc.


Contact Form
Visitors to your domain will see your customised online contact form, just like on a website! A fully responsive landing page with a customised online contact form is included. Site visitors can use it to contact you without knowing your email address.   


Private and Secure
Now the free email providers will never be able to track you or see your address book! Display or hide your contact details on your landing page and domain registration info as per your requirements.


Access From Any Device
Send and receive emails from any mobile phones, tablets, laptops & desktop computers.


Webmail, POP3 & IMAP
Access your emails from any browser or mail software on any device including PCs, laptops, tablets & mobile phones.

Auto Responder
Send automated replies when you are unavailable, for example if you are going on leave. Anyone sending you email will receive an instant reply customised by you.

Mail Forwarding
When enabled, any incoming emails will be automatically sent to another email address specified by you. This feature also enables you to manage multiple emails by diverting all emails from your new email addresses to a single address of your choice. Many customers choose this feature to divert emails from new addresses to a gmail /hotmail/yahoo etc account that they have been regularly using. This way you can keep your usual email address and manage all your new addresses from it.


Free Setup
Save $30! Set-up is free and easy instructions are provided on how to manage your new email addresses.


Support
Support is available via phone, email, skype or sms if you ever need it. We are always available for assistance and answers to any questions that you may have. We are known for our quick responses and efficient service.


Contracts
No Contracts or hidden fees, just pay as you go!


Website Option
Upgrade to a multi-page website at anytime at a discounted rate!

Delivery Time
Your account will be ready for use in within 24 hours after your cleared payment has been recieved.

Prices start from just $6/month!

Bring your own domain or we can register one for you for free. 

Send us an Instant Message